Atlantic Fencing Academy's fencers on the strips…
Ariana Mangano qualified for the 2017 Cadet & Junior World Championships! She will represent the USA in both cadet and junior – individual and team – events in Plovdiv, Bulgaria, April 1st -10th. Follow the events here. Good luck Ariana!
Ariana Mangano is fencing on the women's epee junior team at the Junior and Cadet Pan American Championships in Cuba. Go Team USA!
North American Cup – Dec 02-06-2016, Richmond, VA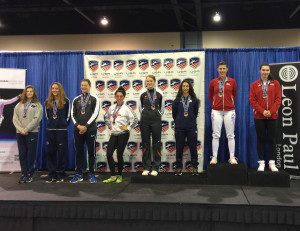 Ariana Mangano earned silver medal at the Div 1 women's epee event. The 15 year old fencer made a great impression in the field of many experienced fencers. In the quarter finals, she defeated 2016 Olympian, Katherine Holmes.  Ariana is now #3 on the Cadet and Junior ranking list and #13 on the Senior ranking list.
Ariana is coached by Jim Carpenter and taking lessons three time a week in the club. She is also bouting at the NYAC with strong epee fencers of both gender. At the competitions, coach Donna Stone helps Ariana  with strategic advice.
Ariana's goal is to make the Cadet/Junior World Team in 2017.  Plovdiv, BUL April 1-10 2017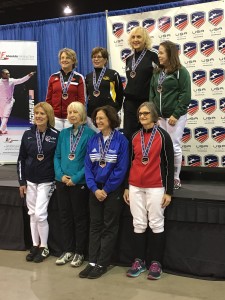 Rosa Hearne reached her first national final earning 3rd place among great Vet60 fencers.
Following her son, Thomas' steps on the strip [Atlantic, Brandeis Univ] , she became an avid  fencer. She had several local and regional finals before this NAC.  Rosa practices three days a week and takes epee lessons from coach Jim Carpenter.
Not long ago, she picked up the saber as well and coached by Fraser Ward.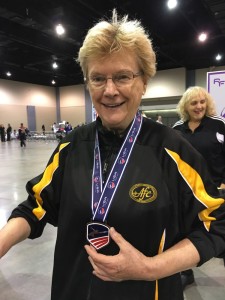 Sally Higgins stood on the podium twice: in Vet70 saber and epee.
Coming back from a surgery and long recovery, she placed 5th in saber and the next day 7th in epee.
She started fencing at age 72 and fall in love with the sport. Her primary weapon is epee, but two years ago she started to enjoy saber as well. In both, she is coached by master Istvan Marton . Sally is practicing three times a week and bouts enthusiastically with young and adult fencers.
She was member of the Vet70 World Team twice: Limoges, FRA and Debrecen, HU
Sally's goal is to earn a spot again in the Word Team.